Why do you need APatrol?
A fixed monthly fee, you can rent all patrol equipment you need, operate on Internet, easy to edit patrol routes, view and print records and analysis, and enjoy a free onsite maintenance service.
APatrol is a fully automated monitoring system, very stable patrol equipment, friendly-use platform not only provide convenience to your employees , your customers can also view real-time patrolling through the Internet. Flexible services plan allow you to chose your best fited needs and reducing operating costs.
Please contact to our Customer Service Officer and the arrangements for the demostration!
APatrol system structure: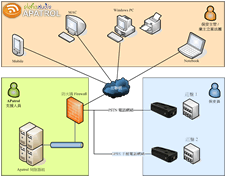 Click to enlarge